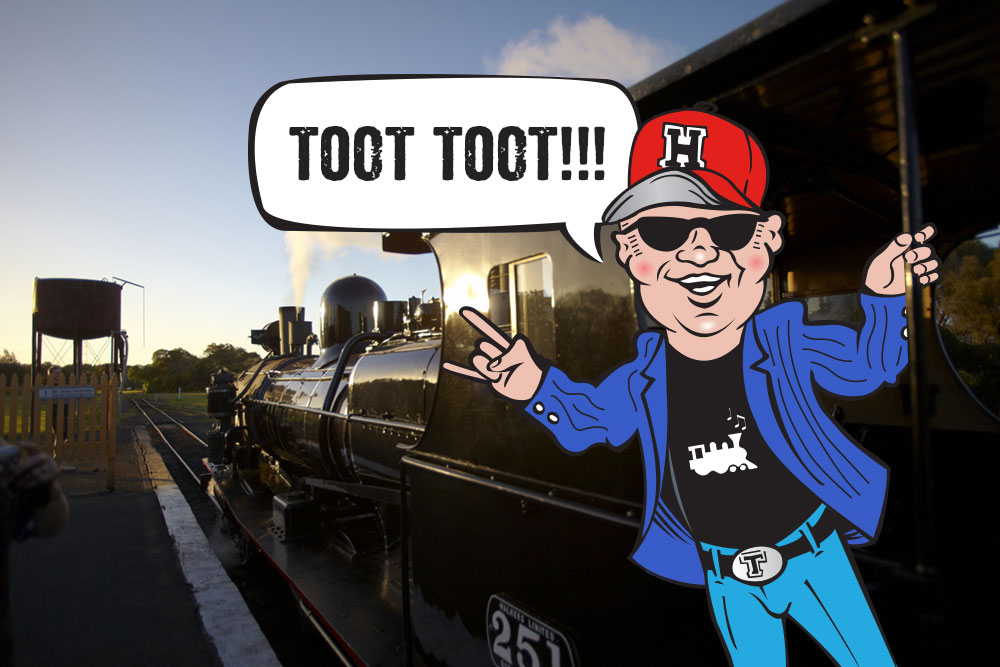 In this article, Blues Train owner Hugo T provides a list of his top 5 Heritage Railways in Victoria.
Hugo's Top Heritage Railways in Victoria
The Bellarine Railway
The Bellarine Railway is operated and maintained by the dedicated volunteers of the Geelong Steam Preservation Society – a not-for-profit organisation founded in 1970. The society was the first Victorian preserved railway to be established entirely by volunteers. It first ran trains at Belmont Common in Geelong, before moving operations to the Queenscliff-Drysdale section of the former Victorian Railway's South Geelong-Queenscliff branch line in 1976. The line is recognised as the oldest Victorian branch line still in operation.
Today the railway offers visitors a unique opportunity to re-live the sights, smells of a by-gone era, by riding on a steam or diesel hauled heritage train, assembled from the railway's collection of locomotives and carriages from 3'6″ narrow-gauge systems across Australia.
Bellarine railway train services and special events can depart from either Queenscliff or Drysdale Stations, so be sure to check which station departure you have pre-booked or wish to start your journey. Arrive in plenty of time to collect your tickets from the booking office and prepare to board the train and enjoy a scenic journey.
Puffing Billy
Puffing Billy is Australia's premier preserved steam railway and operates every day except Christmas Day!
The journey aboard Puffing Billy takes you through the magnificent Dandenong Ranges, located only one hour east of Melbourne. This century-old steam train continues to run on its original mountain track from Belgrave to Gembrook.
With lush fern gullies brushing past and Mountain Ash trees towering overhead, Puffing Billy makes for a wonderful opportunity to relax and breathe in the fresh air whilst the train makes its way through the temperate rainforest.
Visitors from around the world enjoy travelling aboard Puffing Billy as a stand-alone experience or as part of a Melbourne day tour. If you are a Melbourne local, you can bring friends, kids, other family members or interstate visitors, pack a picnic and travel aboard this historic Melbourne attraction.
Step back in time as you enjoy this authentic experience. Parents and grandparents can relive their own childhood memories whilst introducing the next generation to this unforgettable part of Victorian history. Don't forget to capture some amazing photos whilst the train travels over the historic Monbulk Creek Trestle Bridge!
Couples can enjoy a different type of Puffing Billy experience by having lunch aboard the First Class dining carriages. Other special events include Day Out With Thomas, as well as evening dining experiences such as Steam & Cuisine After Dark and Murder Mystery dinners!
A little bit of history…
Puffing Billy was built to serve at the turn of the century and is a genuine relic of our more leisurely days. The Railway is the major survivor of four experimental lines used to develop rural areas in the early 1900s. Puffing Billy Railway is now a major tourist attraction and operates every day except Christmas Day, thanks to the tireless efforts of more than 900 dedicated volunteers.
Mornington Heritage Train Line
Victorian Railways heritage train services operate along the original Mornington Branch Line on Sundays of each month, some additional Special Event dates and mid-week school holiday days.
Four return services operate between Moorooduc and Mornington.
Features include K Class steam locomotive, Heritage diesel locomotives, Lovingly restored heritage carriages & rolling stock – some more than 100 years old.
Victoria Goldfields Railway
Winding through forest and open land in Central Victoria, the Victorian Goldfields Railway is a remnant of the extensive branch line railway system which served rural Victoria from around 1880 through to the 1970's. Branchline railways, radiating from the main lines, reached into sparsely populated regions, providing transport for farm produce, tapping the natural resources and promoting the settlement of new areas.
The line from Castlemaine brought rail connection to Maldon and Muckleford, achieving the aim of providing transport and communication to this isolated area. With time, the value of the branchline railway waned as the increased use of road motor transport reduced the isolation of rural areas. The Maldon Railway, no longer a vital link, outlived its usefulness and like the other 'light' lines of Victoria, closure and dismantling appeared to be the only prospect.
Closure came, but through the efforts of volunteers the line has taken on a new life as a heritage railway, enabling the visitor to see, hear and participate in an active steam railway from the era of the branchline. Steam trains run Sundays and Wednesdays and some holiday Saturdays.
Choose from one of 2 return trips from Maldon to Castlemaine OR one return trip from Castlemaine to Maldon. Trains connect with V/Line fast trains to and from Melbourne at Castlemaine station. Regular event trains run on many Saturdays. Note most event trains require pre booking.
Travel Suggestion… To enjoy a great day out, the 12.00 from Castlemaine gives you 2 hours to have lunch in one of the cafes or pubs and explore the lovely little goldfields town of Maldon before returning to Castlemaine in the late afternoon.
The Daylesford Spa Country Railway
The Daylesford Spa Country Railway and the Daylesford Sunday Market are popular attractions for locals and visitors alike. Situated close to Wombat Hill, surrounded by old elm trees, it is a must see weekly event.
On the 27th of June 1980 the Central Highlands Tourist Railway was formed and the long task of restoring the railway to operating condition commenced. During the mid to late 1980's, gangers trolley's conveyed passengers on short trips to the Wombat Forest about halfway between Daylesford and Musk.
On the 15th of September 1990 railmotor services were restored between Daylesford and Musk for the first time in 13 years. The section of line between Musk and Bullarto was reopened on the 17th of March 1997. In early 2002, the Central Highlands Tourist Railway adopted the trading name of Daylesford Spa Country Railway.