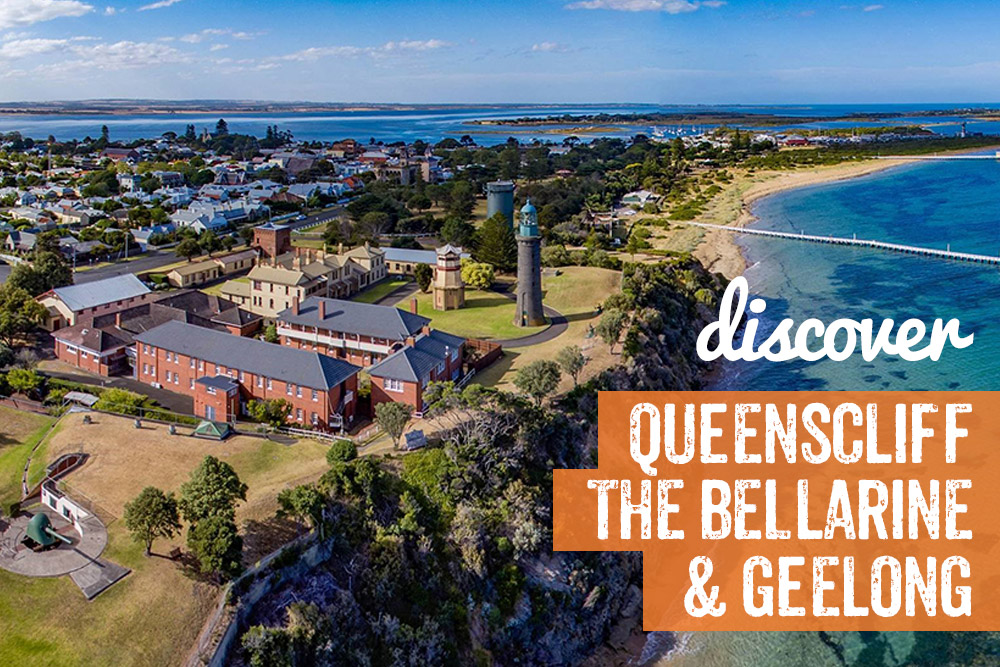 Written by: Tony Wood – Bon Vivant
Sometimes you just get things right…… Our night on The Blues Train was a raging success, with all guests in attendance heaping accolades upon The Blues Train, even from the non-Blues types, so much fun!
Late morning rolls around on Sunday and I felt like that big ol' steam train was hammering on through my head. I had previously considered our brunch/lunch options. Atop of the pile was either Grow at Point Lonsdale, for great coffee, healthy smoothies, gluten-free options, and tasty fresh daily treats, or the Ocean View Kiosk in Queenscliff for the carb-laden Big Breakfast and again terrific coffee. The Ocean View has sensational water views across to the Mornington Peninsula and out through The Rip. Behind you sits Fort Queenscliff, well worth a tour and home to the Southern Hemispheres only black lighthouse (which also held Victoria's first public telephone service).
There's a local expression on the Bellarine to describe a "slacker" – he's like the Queenscliff cannons – never fired! The cannons were installed during the Crimean War when it was thought – The Russians were Coming. History abounds in Queenscliff, Victoria's smallest borough, with loads of its attractions within walking distance of the town centre. Together with the Fort Museum, there is the Historical Museum and the Maritime Museum.  If fresh salty air is more your thing, the Queenscliff Harbour is the answer. From multi-million-dollar yachts to historic couta boats, they are all in the Marina. There are two splendid galleries in Queenscliff if you wish to spend a peaceful afternoon viewing some frequently featured local artists. Seaview Gallery and Salt Contemporary are both housed in splendid buildings, a must see for art lovers and architect lovers alike.
Moving away from Queenscliff, there's too many options but one impressive choice is The Flying Brick Cider Company on the Bellarine Highway. It's well worth a look, learn how their various ciders are made and the different fruits used in their brewing.  An inexpensive tasting paddle is the best option. There is a very pleasant dining area, noted for top quality meals. Don't let the busy car park deter you, it's a voluminous space with a bustling atmosphere but there's always room for another group. There's even a tourist information desk inside The Flying Brick.
If you're seeking a day of leisurely travel and tasting, there's one brochure that covers it all, the Bellarine Taste Trail, and to quote their brochure  "boasting nearly 50 food and wine destinations, our trail is littered with farmgate producers, provedores, unique wineries, beer and cider and award winning cafes and restaurants". There's something for everyone on the trail, so much to do, so little time!
If a Sunday session is more your thing, there's loads of options. Get a back to back Blues experience by visiting the New Orleans style bar Pistol Pete's Blues n Food, although boosting live music most nights, their (free) Sunday sessions are the stuff of legends. Kick back and enjoy the atmosphere and a taste of Louisiana with gumbo's, jambalaya, southern fried chicken and pulled pork being but a few of their specialties.  Little Malop Street in Geelong's West end is a ripper, pedestrian-friendly area. Surrounding Pistol Pete's, you'll find artisan coffee roasters, wine bars and plenty of multicultural restaurants.
If beers and brewing pique your interest, you can't go past Little Creatures Brewery.
Whether you're after a relaxed lunch with a bunch of mates, a behind the scenes brewery tour, or a fancy function, they've got you sorted.
The Elephant & Castle is a fantastic classic pub which has been a part of the Geelong landscape from its beginnings in 1891. The local favourite is currently owned by former Geelong Mayor and paparazzi guru Mr. Darryn Lyons. Check out some of his amazing photography adorning the walls of the hotel, whilst enjoying a cold brew.
If you've the luxury of a Monday RDO , book yourself into a waterfront hotel overlooking The Historic Steampacket Gardens and The Geelong Yacht Club, where visitors are welcomed to the bar and invited to wander around the historic setting.
Geelong and The Bellarine are worth far more than a weekend – I've barely scratched the surface, take a week or longer to really immerse yourself in this delightful part of Victoria.
It's an easy 50-minute run down the toll-free Princess Freeway.