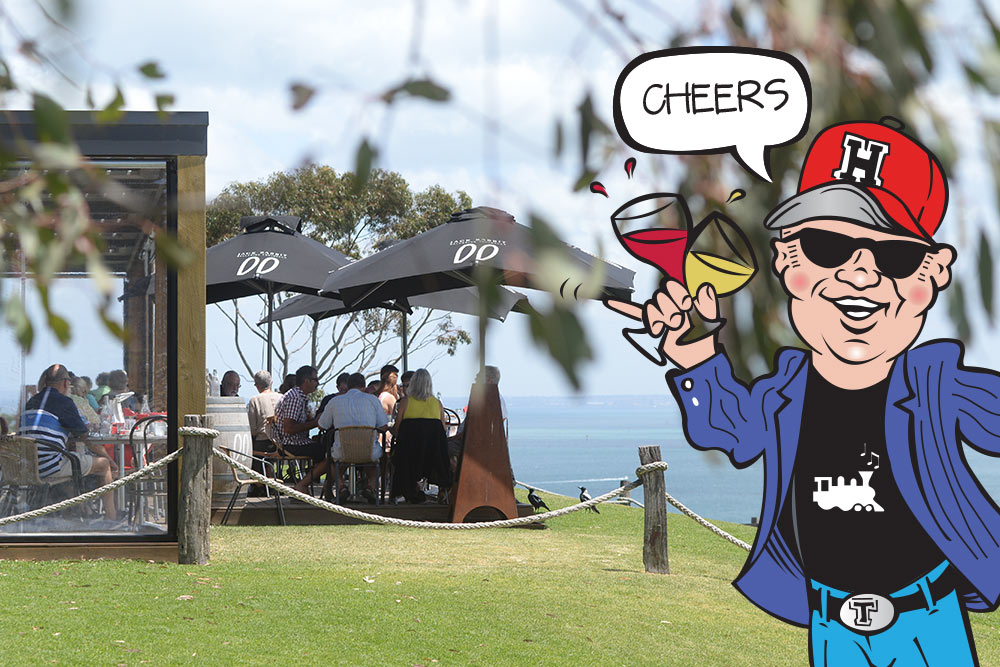 The Bellarine Peninsula is situated south-west of Melbourne, in beautiful Victoria. If you enjoy spending your time looking out over the ocean as the sun sets, eating good food and sipping good wine, then the Bellarine is the place for you. The Peninsula is a place of pilgrimage for foodies and wine connoisseurs alike, the options available to them are almost endless. This article we'll explore the different tastes of the Bellarine Peninsula and will give you all the information you need to find the right place for you.
Wineries:
If you are looking to spend the afternoon relaxing at a picturesque winery, you will want to visit Jack Rabbit Vineyard. They host countless weddings and events every year, making them a perfect location for your next special occasion. They are home to a cafe and restaurant, both playing host to various wine tasting sessions or relaxed meals out. The Jack Rabbit Vineyard is a must-visit stop on your tour of Bellarine.
Should you prefer to find a more casual winery experience, the Oneday Estate offers a way more casual experience. It is still great food and wine, it just may be a better environment if you are accompanied by children. The choice is very much up to you, of course.
Breweries:
If beer is more your forte, the Little Creatures Brewery can be found in Geelong, just a short drive along the coast from the peninsula. The Little Creatures Brewery is home to the world-famous, and increasingly popular, Furphy Beer. Whether you are looking to enjoy your favourites or discover new ones, this is the place to be. They boast their own Willy Wonka's Chocolate Factory experience, only with beer instead. This place should be on the map for all beer lovers.
Restaurants:
The 360Q restaurant at Queenscliff harbour, Bellarine, is situated right on the water offering beautiful views, wonderful food and a cool ocean breeze. 360Q has been voted the number one restaurant in Queenscliff and for good reason. It is not just the setting that captivates their customer, but the food, wine, and top-notch service. If you are looking for a great place to get some brekkie to kick your day off right, 360Q is the place for you.
Cafes:
Of course, the Jack Rabbit Vineyard have their cafe, as does 360Q. But there is so much more available to you in the Bellarine region. If you are looking for a more laid back, easy-going, experience then perhaps the Edina Waterfront Cafe might be what you are looking for. They do a great breakfast and offer a wonderful selection of high-quality coffees throughout the day.
Perhaps you are looking for a casual cafe that does fresh seafood and cold beers? Then you might find The Little Mussel Cafe has what you seek. If you feel like eating oysters while sipping ice-cold beer and looking out over the water is the way you want to spend your afternoon then perhaps you should pay them a visit.
Unique Experiences:
If you are looking for something completely out of the ordinary, you won't want to miss out on taking a trip on The Blues Train. The Blues Train is like nothing else you will find on the Bellarine Peninsula, it offers you an opportunity to travel from Queenscliff to Drysdale and back again; All whilst listening to great music, with a selection of beverages including local beer and wine, having a great time. It's a really cool way of seeing the countryside by evening and meeting new people. Food is served on the train by a known, local catering team capable of handling any dietary needs you might have. From the moment you arrive, you will smell the rich aroma of smoky BBQ, and you will know you have come to the right place. You won't find anything else like it.
If culinary degustations are more your thing, perhaps taking a trip on The Q Train culinary experience might be on the cards. The Q Train focuses on luxury food and drinks, not music. This train runs opposite The Blues Train and offers an interesting opportunity to sample fine wines, beers, and ciders. The train played host to an episode of Australian Masterchef in 2019, leaving them all thoroughly impressed.
If you are lucky enough to be in the Bellarine region on a Sunday, you won't want to miss the Oneday Estate's weekly Paella day. It is a casual dining experience, great for bringing the family along.
In summary:
As you can see, the Bellarine Peninsula has so much to offer for food and drink lovers alike. The whole area has bought into the idea of a relaxing coastal town, it is such a fun, family-friendly place to be. It is perfect for a romantic getaway, or your next family holiday. Whatever the reason you decide to visit, you will certainly be glad you did.